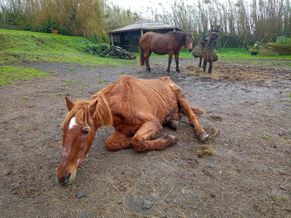 December was one of the most difficult months I have had in a very long time. I was totally physically and mentally exhausted. The November winds picked up again after our Christmas market and soon after the skies just opened up and drenched everything! Our fields, our rescues, our volunteers, and I were soaked. The work we do on a daily basis is not easy - so adding cold, wet rain gear that has no chance to dry from the day before, water filled boots, deep sticky mud and pools of water to navigate wheelbarrows around was utterly exhausting! I am not very good at showing weakness, let alone talking about it, but I have to admit that 7 days a week, twice a day out in the yuk got to me. And day after day I fell behind on everything other than feeding, mucking and caring for our rescues and Serrão, the pony that had been brought to our attention in the beginning of the month.

Serrão
 brief recap:
Serrão is a little pony who has lived in our neighbourhood ever since I can remember. He has always been alone and tethered in sometimes very questionable areas. I have brought him water on occasion in the summers, and found out that there is an owner, who bought him for his kids, and they love him very much. Unfortunately, there is nothing that we can legally do to insure the wellbeing of these sentient beings, not even after creating Ninovan. This is the reason we focus so much on education!
Back to Serrão and Mark Strong with the Multi Radiance Laser. I introduced Mark and his magic laser in the November newsletter- if you would like to read more about the laser, you can do that here: multiradiance
Serrão's wound was approximately 10 inches wide and 3 inches deep(!). I thought to myself "if we get this closed before the summer, when we have to deal with more flies, I will be happy!".
This little gadget is a game changer! I can not begin to tell you how blown away I am at the results we achieved after only a few days! We feel very lucky to have met Mark and are grateful that he has introduced us to the laser.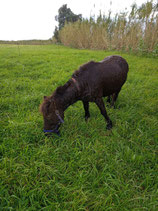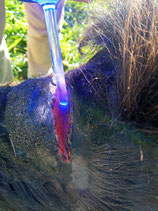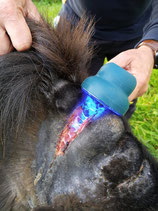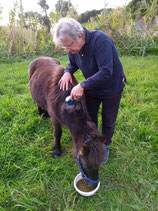 It was like watching a magic trick, and if I had not been the one treating the pony twice a day under Mark's instruction, I would have had trouble believing it! After only 8 days the wound had healed so well that we were able to stop the laser treatment!
Luckily my dear friend and Ninovan supporter offered that Serrão can stay on her field as long as necessary until the wound closes enough for him to go home - wherever that will be. I have spoken with the owner about donating an electric fence to him, if he has enough land to use it. He assured me he does, we will discuss it when the time comes to make that transition for the pony. 
You may be thinking - "Poor pony! How can you put him back into that situation?" 
It is a tough reality and, to be honest, we are thankful to have even been allowed to treat Serrão before returning him to his owner.  Yet another reason for focusing on education!
On January 1, 2022 Serrão saw an opportunity when I was distracted while moving his fence, he ducked under and off he went! First, he just ran up and down the field, happy as can be, bucking and goofing around, so I just continued to move the fence to where I wanted it and thought I could catch up to him after. 
My experience here at Ninovan is that our horses never go very far when they get out, and to the surprise of my neighbours, they usually come back when I call them or they let themselves be brought back by just showing them the opening in the fence. With this little rascal, Serrão, it was not the case. That boy was gone! I mean, I looked everywhere for him- even got my jeep stuck in a field looking for him- nada... 
Since the rest of December was just more mud and exhaustion, I will just jump into the new year with you...
---
Find what happens next in January news. 
If you too would like to participate in the SUNSET FUNdraiser, please read more here, or go directly to PayPal.