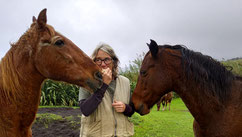 Dear Friends and supporters!

November flew by like the wind! I was full of ideas coming back from the states, and now that the SUNSET FUNdraiser has kicked off, I was able to focus my energy full-time on Ninovan!  

Unfortunately, there were a few hiccups with the PayPal link, but I do hope that it has been resolved in the mean time. I would like to thank those of you who worked with me on that. Since some of you found it easier to contribute for the entire year, and others managed to set up a monthly contribution, I was able to  get through the month without taking on other work. The mix was a perfect way to start out, Thank YOU!
In November we hosted three workshops and started the Christmas season off with our first International Christmas Market! 
The workshops were fun to put together and all of the participants seemed to enjoy themselves. So much so, that a few of them signed up for the following workshops. We are looking forward to hosting more workshops throughout the upcoming year.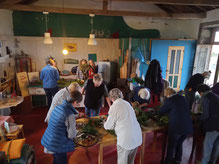 Garland & Basket making
with Brenda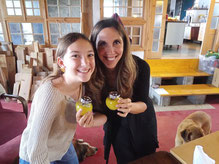 Diffusers & Scrubs
with Reneé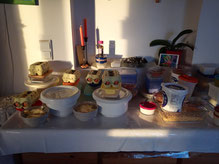 German Christmas cookies
with Renate
Participants made Christmas presents for friends and donated projects for us to sell at our Christmas market!
Our first International Christmas Market
A success on all levels! That little bit of extra TLC our Volunteers put into helping build the stands for the market really payed off and made the atmosphere in Oceanic's charming courtyard magical! It felt as though everyone who attended was touched by a "feel good wand" or …maybe it was the Glühwein, who knows! I received so many compliments throughout the market, one of which I would like to share with you.
One of our long time supporters asked me where I get all of my energy from. She noticed a change since I had been back home. There were more cars in front of my house (Ninovan) than usual and, although I seem to be busier than ever, I appear to be lighter and happier. She told me that she is so pleased to see that and that I deserve it for all of the work that I have put into Ninovan over the years. I explained it is an ongoing team effort, and the team seems to have caught whatever I brought back because they really rallied together to pull this off and for that, I am thankful.

Our Market raised €1100, which will pay for our last feed bill and 4 big rolls of hay!
Every Wednesday one of our team members, Rita, and an active volunteer, Armando, come to Ninovan from 9:00 - 12:00 to work with Daniella and Francisco. Rita and Armando both enjoy working with these two students who are here with us for the duration of the school year as part of a program designed to help young adults achieve a basic education, giving them a greater opportunity for employment in the future. 
Francisco is a gentle giant with a fantastic sense of humour. He has grown up without a father, and  his gentle, trusting nature makes him easy prey for teenage pranks. He is honest and kind and compassionate when he is with us and our rescues. We feel blessed to have him here with us.
We were told that Daniella has difficulty concentrating in school and that she does not show much interest in her classes. Since she has been coming here we have watched her grin grow into a smile. She is fun to be around and opens up a bit more with each visit! We consider ourselves lucky to have this unique opportunity to work with these awesome teenagers! 
During the first weeks of November we battled the wind, the rain and mud until at last, the week before our market, the sun blessed us with a beautiful day! Luckily, our volunteers are tough and we managed to get through it, usually with a bit of fun and a laugh. It is not easy to push a wheelbarrow through the mud! It is kind of like being in the ice capades, just in the mud…
December started with a call about a pony.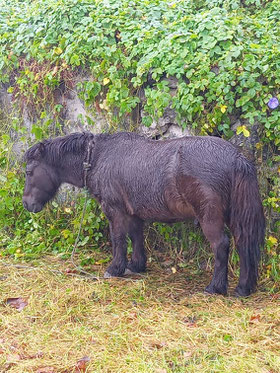 I  know the pony, and have seen him around here for years and have brought him water in the summer. Other than being tethered, and not having access to water, the pony always seemed "ok".
This time was different. I was in shock when I saw him. Although I already had received photos of an open wound on the neck of the pony, where the rope had cut into the skin, I couldn't believe what I found. This is the deepest flesh wound I have ever seen, and had attracted maggots.
I found out who the owner was from the neighbours (the pony was tied to an abandoned piece of property next door- which is "normal"). It turns out that I know the owner, we greet each other on the streets, so I went to look for him, and called our Vet.  I also contacted the local authorities (who did not react).
And then I called a man I had just met at our Christmas market who works with charities and Vets around the world, his name is Mark Strong. Mark is director for Multi Radiance Medical and uses Veterinary Laser Therapy to provide accelerated pain relief and healing. This safe and powerful technology is applied with a hand-held applicator providing targeted Super Pulsed Laser light that stimulates cell regeneration. This could be the perfect opportunity for us to see how it works. Mark came over right away and together we managed to get the rope out of the wound and put one of our donated halters on the pony.
Helena, our Vet came as soon as she could, and together we washed the affected area and cut back the hair to keep the wounds from getting infected. There were three lacerations along the neck from the rope. And pockets of larve we had to cut open to clean. The little guy was stoic, and probably in so much pain (although I had already given him some pain meds earlier), he just stood there for us and let us treat him.
It is a horrible situation, but I strongly believe that this is exactly what we need in order to connect more with our local community. The owner knows me and what we do, but did not feel comfortable coming to me. Now he knows that we are not going to place blame, or point fingers, we are just here to help and support. 
Other farmers that I know saw me with the pony, so I am pretty sure that by tomorrow, everyone in our small community will be talking about it. 

I really hope to get a connection with the owner's son during the next several weeks in which we will be treating his pony. I want him to feel comfortable coming to Ninovan in the future, and to tell his friends about our work.
The pony's name is Serrão. 
---
Find what happens to Serrão in December news. 
If you too would like to participate in the SUNSET FUNdraiser, please read more here, or go directly to PayPal.